| | |
| --- | --- |
| | Catalogue of GENUINE goods~! Get it while it's HOT! |

| | |
| --- | --- |
| | Seriously, Beff, the stuff over at RedTrubble IS genuine! |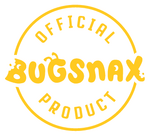 Official Bugsnax Merchandise are products marketed towards fans with the purpose to promote the game Bugsnax further. Fangamer, a videogame merchandise company, has been the sole publisher of official Bugsnax related goods.
Pre-ordering the PlayStation 5 version of Bugsnax would gift the purchaser a bonus Bunger pin, which is not available to be bought. Most goods have been available since pre-order/game launch, with the Bunger Plush being a later addition.
To celebrate the release on Steam on April 2022, additional items were added. The release on Steam went hand-in-hand with The Isle of BIGsnax release, but the merchandise itself does not reflect this update.
The Island Flavor shirt is the first merchandise to include the Grumpuses, with the Hoodie having one small picture of Filbo as well. All other merchandise focuses on the Bugsnax which are supposedly assumed to be more marketable.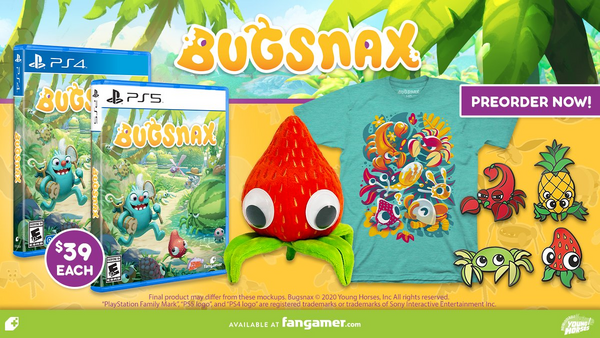 Bunger Pin
Bugsnax - with GAME Exclusive Pre-Order Bonus (PlayStation 5)

GAME Exclusive – This item is only available in the UK from GAME Stores and game.co.uk. Available to any customer preordering and purchasing the Bugsnax game. Strictly 1 per customer. While stocks last.
Snax Pak Pins Set 1
A soft fruit center covered in a hard-enamel, extremely inedible shell.

This official Bugsnax pin set was designed by Nina Matsumoto. It includes Pineantula, Scorpepper, Crapple, and Strabby, ranging from roughly 0.8 to 1.8 inches tall.
Lunch Bunch
It's important to figure out what Bugsnax are, but it's even more critical to figure out why they taste so good.

This official Bugsnax shirt was designed by Versiris and printed by Forward on soft shirts from Canvas and Next Level. (Unisex XS-3X are a polycotton blend; unisex 4X-6X and all women's shirts are 100% cotton.)

Comes with bonus Strabby sticker.
Island Flavor
A very unusual island adventure.

This official Bugsnax t-shirt was designed by Mason Dickerson and printed by Forward on soft, 100% cotton shirts from Canvas and District. Each one comes with a bonus sticker.
Snaktooth Safari Hoodie
Solve the mysteries of Snaktooth Island.

This official Bugsnax hoodie was designed by Jon Kay and printed front and back by Forward. Sizes XS-3X are a midweight, French terry sweatshirt from Independent Trading Company; 4X-5X are a heavyweight garment from Gildan.
Strabby Plush
One of the liveliest, tastiest Bugsnax you'll find on Snaktooth Island.

This official Strabby plush stands about six inches tall on its posable leaves and sports a big, expressive pair of googly eyes.
Bunger Plush
Those Yarn Bungers!

This official Bugsnax plush was designed by Versiris. It's six inches tall, with a posable wire frame.
It's Bugsnax! Single
Vinyl and digital release.
Bugsnax Original Soundtrack
Bugsnax Field Guide
(section coming soon)
References & Notes