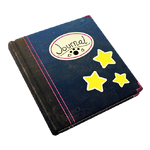 The Journal is the note-and guidebook of The Journalist.
The journal itself is listed under "Tools".
The journal would have been part of the Journalist's own starter inventory along the SnaxScope and SnakPack but claim to have lost/left it on their ship. They receive a replacement from Beffica in her first main quest High Learner, guiding the Journalist through it as a tutorial, before entering Snaxburg.
Clues and Leads
Strange Device Notes

'The door is attached to some ancient mechanisms. It looks like it might take at least three Grumpuses to activate these...' ~Liz

Half of a Code

'Looks like I need to weigh down the pressure plates in order. First left-' Unfortunately it cuts off there.

The Other Half of a Code

'-then right, then center. And after that, push down hard on all three! That should get a response!'

Mystery Map

'Near the mountain peak, hang left from the trail and take a narrow ledge north. See attached map.' ~Snorpy

Sugarpine Woods Map

'I saw Lizbert looking down on camp from between the trees beneath the snow line.' ~Wiggle

Boiling Bay Map

'At the end of the Boiling Bay, past the shipwreck. Liz was definitely over there, you'll see.' ~Cromdo

Video Diary #1

A worn projector tape I found in Lizbert's hut.

Video Diary #2

A dusty projector tape locked away in Lizbert's cabinet.

Video Diary #3

A sweaty projector tape I found inside Eggabell's hope chest.

Video Diary #4

A muddy projector tape discarded among Lizbert's supplies out in the woods.

Video Diary #5

A battered projector tape from the mystery box.

Wiggle's Autograph

A signed headshot of Wiggle. I have no real use for this.

Beffica's Decoy Diary

'As if I would leave my real diary out in the open. Nice try, though! Keep up that instinct and maybe you'll learn my secrets' ~Beffica

Bugsnax File

A report on Lizbert's discovery of Bugsnax. It was included along with her invitation to Snaktooth Island. Sadly, the photos are all blurry.




Liz's Cabinet Key

With this key, I can open the cabinet in Liz's hut.

Diary Key

Gramble gave me this small key that seems to go to a locked diary.

Eggabell's Chest Key

Chandlo gave me the key to get into Eggabell's chest.

Mystery Key

Floofty dismissively gave me this key. Seems to go with a mysterious box.
(to be added)
Triffany's Treasure Map
Diaries
'The Desert Grumps have pictograms showin' an ancient Bugsnak flyin' over the pyramid! There's gotta be a way to make it appear!' ~Triffany
PRESENT DAY
TWO WEEKS EARLIER
New Clue!
You picked up a video diary! Check your Journal for details.
You picked up Liz's notes on a secret code! Check your Journal for details.
Wambus gave you notes about a strange device! Check your Journal for details.
Triffany has a locked journal. You'll need a key to open it!
Beffica gave you Liz's cabinet key! Check your Journal for details.
Cromdo gave you a map to the boat! Check your Journal for details.
Wiggle gave you a map to Liz's last location! Check your Journal for details.
Gramble gave you a diary key! Check your Journal for details.
Chandlo gave you Eggabell's chest key! Check your Journal for details.
Snorpy gave you a map to a mystery door! Check your Journal for details.
Shelda has a locked box. You'll need a key to open it!
Floofty gave you a mysterious key! Check your Journal for details.
Snakpack Upgrade!
The size of your heart has grown, and so has your inventory space! Keep donating to keep growing!
The size of your heart has grown, and so has your inventory space! It can't get any bigger, but donating is still a nice thing to do.
Tools
The Journal is a record of all information about your time on Snaktooth Island! SnakPack A place to carry all the Bugsnax you've collected!
The SnaxScope gives you information about anything it scans. That info is then added to the journal!
Allows you to pick up and capture Bugsnax that are stunned.
A device designed by Floofty which can decide the transformations of Grumpuses.
Allows you to capture Bugsnax that walk into its radius. Captured Bugsnax can break out if they're inside for too long. It can't capture Bugsnax that are too large or too quick.
Get Bugsnax to notice each other by saucing them or lob a few at the ground to get their attention.
A Strabby in a glass ball that will follow your laser pointer. The Buggy Ball can push Bugsnax out of their hiding places. It can also be sauced to get Bugsnax to follow it!
The Lunchpad can launch any traps, Bugsnax, or loose objects placed onto its target. Useful for reaching flying Bugsnax or far-away platforms.
Grabs distant traps and sauces, as well as Bugsnax that are stunned or vulnerable.
Stuns Bugsnax when they run into its wire! It can't stick to loose surfaces like snow, sand, or dirt. The wire also conduct elements like fire and ice.