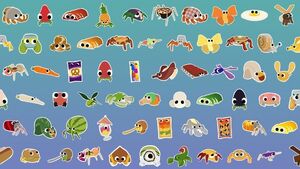 Bugsnax are bug-like creatures that resemble food and roam Snaktooth Island and its sister island, Broken Tooth.
Consumption of them comes with the side-effect of Snakification, whichs gradually transforms the body of the consumer.
There are various species of Bugsnax found throughout the game which can be caught using traps.
For information about the history and biology of Bugsnax, refer to this page, but be aware that it contains frequent and heavy spoilers!
Alphabetical listing of all known Bugsnax
There are 112 catchable Bugsnax. Please note that Bugsnax added in the Isle of Bigsnax update will be added to the list proper when their full-size images are obtained.
Some Bugsnax take inspiration from multiple different "bugs". Multiple bugs may be listed as the basis for a particular Bugsnak, as long as they were confirmed by an official source (or apparent from the English name). While referred to as "bugs", Bugsnax take inspiration from a wide variety of invertebrates, not limited to just insects.