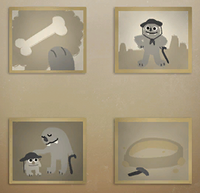 Bronica Lottablog is a famed explorer of the likes of Elizabert Megafig and grandmother to Triffany Lottablog.
History and Legacy
Bronica is/was an explorer and archaeologist. She had a deep love of history, displaying found relics and her own sketches around the house, and nurtured this interest in her granddaughter. Bronica earned some degree of fame in her career, and inspired Triffany to follow the same path. Even at her old age, Bronica never stopped exploring, and her last known exploration was a journey to Snaktooth Island, to learn the island's history. Bronica never returned from this excursion, and even Triffany is unable to uncover what her ultimate fate could have been. As this took place "some years ago"*, her endeavor was likely the last visitors Snaktooth had known before the arrival of the current Snaxburg settlement.
*While the wording of "some years" (from Interview Triffany!) seems to imply a short time, Triffany also speaks of having not seen her grandmother for such a long time that she has difficulty remembering if Bronica still had teeth or not (Triffany Makes History). This implies they have not seen each other for a longer time and as she had a strong bond with her grandmother it was likely not due to parting ways at main land but rather Bronica's expedition to Snaktooth. Triffany herself is likely around 50 years of age, which is the age of her partner Wambus. Thusly "some years" implies to be 10 to 40 years.
Design
Bronica is a Grumpus with light green fur (the color of a Green Crapple according to Triffany) and a slight overbite with two short, rounded teeth protruding. Triffany notes that at a certain point, Bronica had nearly no teeth left. Bronica wore a dark, wide-brimmed hat with strings tied together, allowing it to hang from her neck when not on her head. She also used a cane for mobility, though it is unknown if she used it before reaching old age.
Gallery